PM confronted by nurse over issue of low pay in Question Time special, while Jeremy Corbyn is questioned over Trident and national security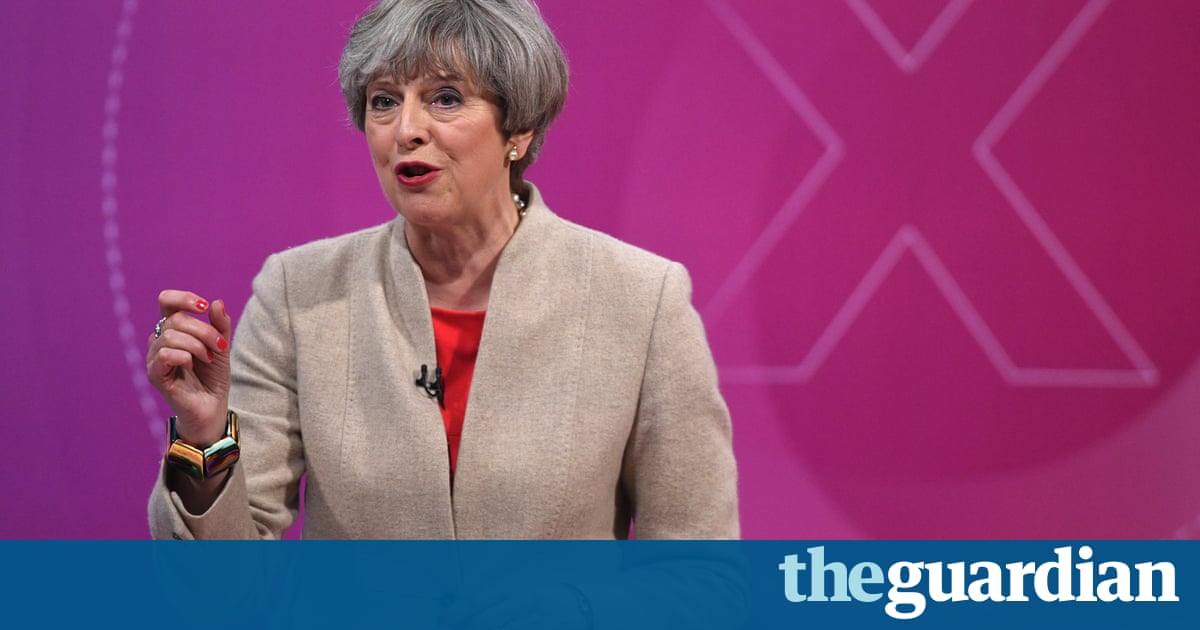 Theresa May came under sustained pressure over the Conservative partys record on public sector pay, mental health services and social care in a combative election edition of BBC1s Question Time broadcast less than a week before polling day.
The prime minister faced a string of awkward questions from members of the public, including a challenge from a nurse, Victoria Davey, who left May faltering after confronting her over the 1% pay increase received by NHS staff.
May said she recognised the hard work people did in the health service but said her party had taken the difficult decision of enforcing pay restraint. Im being honest with you saying we will put more money in, but there isnt a magic money tree that we can shake to get everything we want, she said.
The prime minister claimed wages in the NHS had increased, to which a man in the audience shouted that there had been a real-terms salary drop of 14% since 2010, adding: So dont tell us were getting a pay rise.
One woman from the audience became emotional as she described emerging from a fitness-for-work test in tears after being asked about her suicide attempts. Im not going to make any excuses for the experience youve had, said the prime minister.
Under pressure after refusing to turn up for a TV debate earlier in the week, May was animated at first and rejected an accusation that she had performed a U-turn by calling a snap general election. No its not, sir I had the balls to call an election, she said.
Appearing straight after May on the programme, Jeremy Corbyn also faced hostile questioning, coming under pressure over defence and security.
Pressed over his willingness to push the nuclear button in the face of imminent threat, the Labour leader said: I think the idea of anyone ever using a nuclear weapon anywhere in the world is utterly appalling and terrible. It would result in the destruction of lives and community and environment of millions of people. I would be actively engaged to ensure that danger didnt come about.
Asked again if there were any circumstances in which he would use such a weapon, Corbyn said his party had committed to renew Trident. I would view the idea of using a nuclear weapon as something resulting in a failure of the whole worlds diplomatic system, he said. There has to be no first use. There has to be a process of engagement to bring about ultimately global nuclear disarmament You cannot countenance a world in which we could all be destroyed by nuclear war.
Read more: https://www.theguardian.com/politics/2017/jun/02/general-election-may-falters-during-challenge-over-record-on-public-services