Jordan Spieth is hoping to make amends after blowing a five-stroke lead by dropping six strokes in three back-nine holes during the final round of last years Masters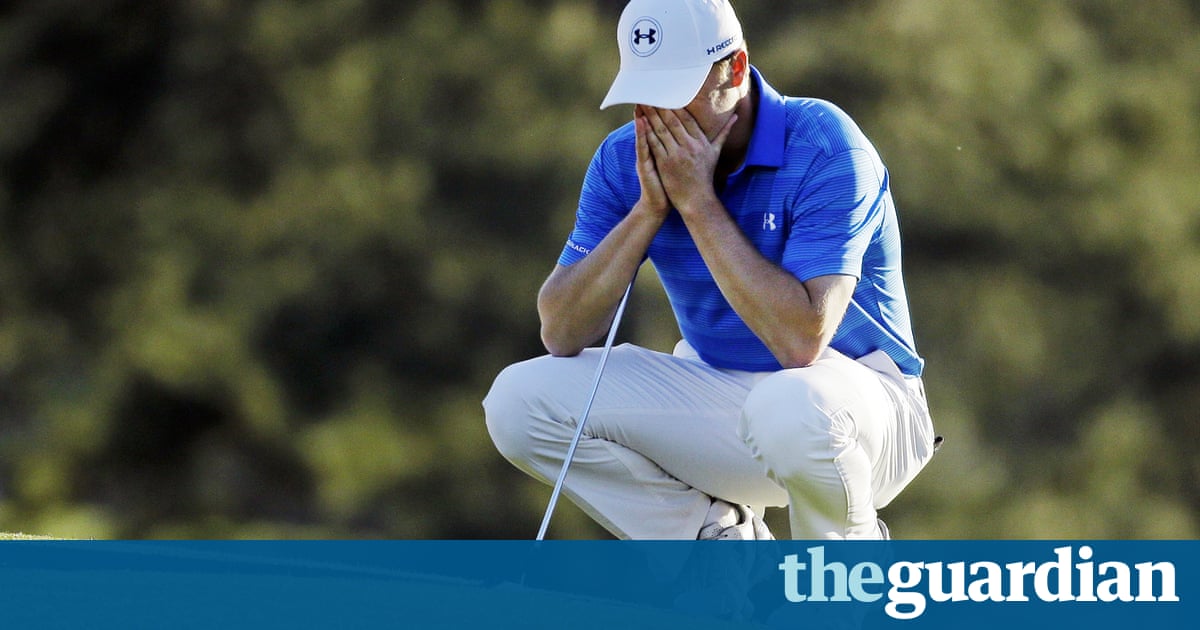 If afforded an each-way Masters bet to save your life, there would be no cause for deliberation. Jordan Spieth finished tied second on his Augusta National debut in 2014, returned to win the opening major of 2015 and, despite an epic, painful collapse last year, showed enough resolve to play the closing six holes in one under par to be joint runner-up.
Leading sportspeople insist career lows resonate far more than the ultimate highs. If that is the case, Spieths stumble from a seemingly unassailable position of five shots in front of the 2016 Masters field provides motivation that will be hard to match.
In golf, players lose considerably more times than they win; the difference with Spieth is that not a soul who watched him march from ninth green to 10th tee could foresee what would happen next. It wasnt supposed to happen this way for the outstanding young Texan, who had taken his sport by storm when securing back-to-back majors in 2015. If bogeys at the 10th and 11th were an annoyance, the taking of seven at the par-three 12th stunned the watching world. The procession was over; Spieth had to now play catch up. Who would have imagined a hole named after something akin to a daffodil, measuring 155 yards at full tilt, could reap such chaos.
What happened to him, its never nice, but those things happen to all of us, says Sergio Garca, someone hardly alien to major drama of the negative sort. As much as you would like to avoid it, unless you come out here and play two tournaments, win them and say: OK, Im done, I retire, those things are going to happen. The game is just like that.
The disappointments are never nice. If youre surrounded by good people, good family around you, theyre easy to get through. The highs are very important and theyre good for you. But you dont want to get too high on them either because then you can get a little bit comfortable and kind of forget what got you there and not practise as much or things like that. So both things can be good and dangerous at the same time.
A decent quiz question is thus: who partnered Spieth over that closing round? Smylie Kaufman is the answer, the wonderfully amiable player from Alabama having produced an exceptional 69 in treacherous Saturday conditions to lie second with 18 holes to play. Kaufman was to struggle even more than Spieth, an 81 leaving him in a disappointing share of 29th, given what had come before. The memories, though, are vivid. I still kick myself every now and then, says Kaufman, who has not qualified for this years Masters. I had a four-footer for a birdie on the first and missed, I did birdie the second but then had some really bad luck. The funny thing was, on the front nine Jordan was holing everything so I had to deal with his crowds.
It was hard to refocus after how loud they were and I was the one standing over a key putt. I was shocked at what happened next. I still thought he was going to win the tournament. He ground it out to finish second but I thought he was going to rally enough to win it.
Kaufman provides interesting insight into the 12th, where Spieth was forced to play shot three from a drop zone after his tee shot entered Raes Creek. The same fate was to befall the defending champions next ball. Jordan will be fine; he only missed that [tee] shot by eight yards, Kaufman says. Its not like he hit the worst shot in the world.
He then had to go to a spot where I dont imagine anyone in the tournament had prepared for. It was a short-sided, 80-yard shot at a weird angle to a right pin. Looking back he probably wishes he dropped at the creek or went back to the tee.
Spieth regards the Masters as his favourite week of the year. Only recently has the 23-year-old made a private grievance public; that questions relating to the 12th were beginning to grate. Spieth has at least been back to the scene of the crime, including this week when he posed for a photograph on the Hogan Bridge with the NFLs Tom Brady. Nonetheless, the Thursday moment when Spieth takes to this hole on competitive terms will inevitably prove one of the talking points of this Masters. Anyone, from 22 handicap to Spieths level, comprehends metal scarring at specific points.
The biggest thing is to not hold it as a negative, says Jason Day. Jordan, he had the lead, a sizeable lead at Augusta, and made a bit of a mess on 12. Ive done the same thing. I had the lead in 2013 with three holes to go and I made a mess of 16. Dont look at it as a negative, hold that above yourself and put that on a pedestal. Understand that its just learning. Its OK to fail. But its OK to fail as long as you look at it as a learning experience and know the next time Im there, Im going to make sure I try to do this instead of doing the exact same thing that put me in that position.
Hes one of those players where hes not crazy long and it benefits him around that place because if youre a longer guy it tempts you to take on certain things. For him to be able to hit to the [dogleg] corners and hit to the greens and take over with his putting, thats why he played so well there.
If were talking about getting over things, youve just got to look at it as a learning experience and move on. The more you just hold yourself there, its not good stuff. You cant hold that stuff in, youve got to let it out somewhere.
Nobody knows if Spieth has exorcised those ghosts. What everyone recognises is the most significant way he can do so, added to the specialism that illustrates he very well might.
Read more: https://www.theguardian.com/sport/blog/2017/apr/01/golf-masters-augusta-jordan-spieth-collapse