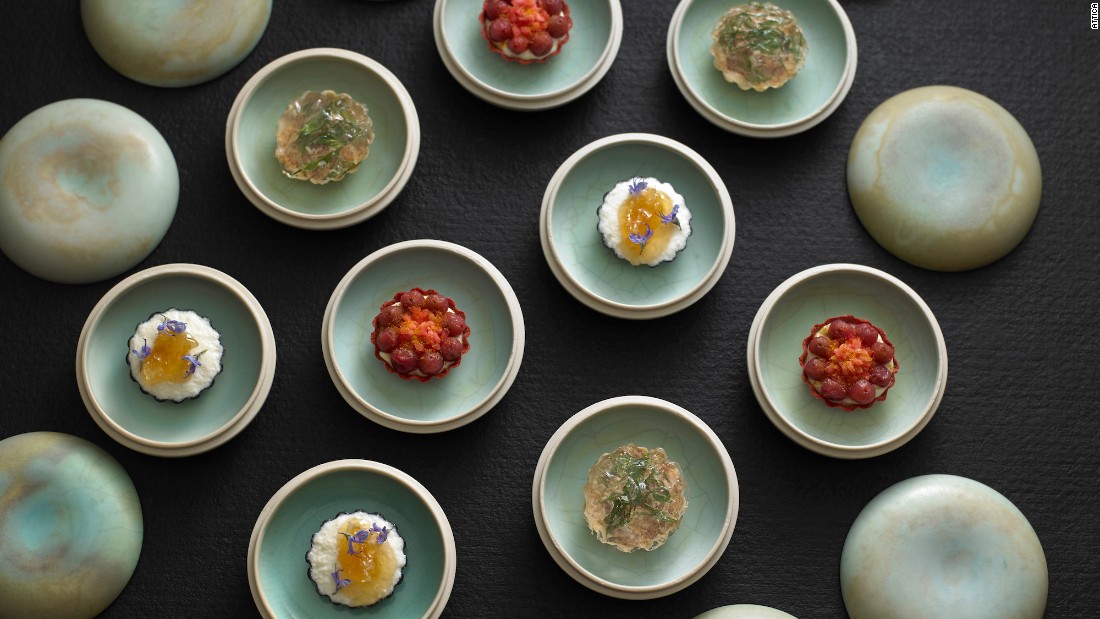 (CNN)Every foodie worth their amethyst bamboo salt knows that the World's 50 Best Restaurants awards ceremony is taking place in Melbourne, Australia, on April 5, 2017.
As the world's most influential chefs and food cognoscenti descend, they'll surely be wondering the same thing: "What are Melbourne's best restaurants?"
One of Australia's most beloved chefs, Shewry's pioneering use of indigenous Australian ingredients in a fine-dining setting has bagged him multiple accolades.
Australia's
Good Food Guide Awards
, for example, awarded Attica three "hats" — the highest honors — every year since 2012.
"When I first moved to [Melbourne in 2002], I had never been here before, yet this special city has overwhelmed me with the quality of ingredients available," Shewry tells CNN Travel, of his adopted hometown.
"It is a huge melting pot of different cultures and cuisines."
Lauded as the food capital of Australia, Melbourne is blessed with diverse food options to match its equally diverse blend of cultures.
After spending 285 hours over 15 days renovating Attica, Shewry steps out of the dust to share his favorite restaurants in Australia's culinary capital.
Glovers Station — best for breakfast
"I like to eat at Glovers Station at Elsternwick because it is a sharp, modern breakfast diner that is right up the road from us. Order the smoked ox tongue dish."
Market Lane Coffee — best for coffee
"I believe Market Lane offers the best and most ethical coffee in Australia. The people that run it believe in a lot of the same things as I do. Try the coffee tasting flight."
Tuck Shop Take Away — best for lunch
"Tuck Shop Take Away serves the best chips in Melbourne and everything here is made from scratch on premises including their tomato sauce and all the syrups for their sodas. Have the 'Minor' burger and the best chips in Melbourne!"
Flower Drum — best for fine dining
"Anthony Lui of Flower Drum is one of Australia's greatest and most historically important chefs, and is still on the stoves six days a week. He cooks with immense skill and more energy than most cooks half his age! You have to try the 'Neil Perry' noodles."
Kalimera Souvlaki Art — best for affordability
"I love the gyros pork platter at Kalimera Souvlaki Art — this is one of the most tasty dishes in Melbourne and they even grow their own oregano to flavor it with. The place absolutely pumps."
Ides — best new restaurant
"Its not every day that a young chef gets to fulfill his dream of opening his own restaurant. Peter Gunn worked for me at Attica for over five years, rising to the role of sous chef. I think he is a fantastic cook and I expect him to go a really long way with Ides. Look out for the baby snapper in the set menu."
Brae Restaurant — best for avant garde cuisine
"I feel fortunate to have Dan Hunter and his amazing team cooking in the same state as us. Brae is one of the best restaurants in the world and they are fighting the good fight out in the country, using beautiful produce and always-immaculate cooking skills.
"It's also the complete package with amazing accommodation if you feel like indulging for the weekend. My favorite course — prawn wrapped in nasturtium."
Ecoblue — best for late-night supper
"Ecoblu at Caulfield North is five minutes from my house, and the pizzas are really great. This place is completely unheralded, except for the locals who know. Order the chorizo pizza."
Dainty Sichuan Food — best for international flavors
"Dainty Sichuan is a personal favorite — it's never let me down and I have been dozens of times. Everything is always really well seasoned and super, super delicious. I always prefer to order off the a la carte menu (try the fish fragrant eggplant) but you should not miss the hot pot."
Bar Americano — best for cocktails
"Bar Americano is a moody, small, intimate, quintessential Melbourne laneway bar run by one of the true innovators of bars and cocktails of the Australian drink scene — Matthew Bax. Have the Whisky Fix."
Read more: http://www.cnn.com/2017/04/02/travel/melbourne-best-restaurants-attica-chef-ben-shewry/index.html